Club News
Course works begin
---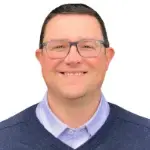 James Cunliffe
PGA Professional Littlestone Golf Club
You may well have noticed the course has had a bit of work done to the greens in the early part of this week and the Warren course will follow later in the week. The process the greenkeepers is currently undertaking is the process of verti cutting. Now I thought I understood what verti cutting was but I was a little off the mark.
Verti cutting is incredibly important as it prevents the build up of organic material near the top of the greens surface. So why is organic matter not a good thing? Organic matter is a hot bed for disease and unwanted grasses as well as something called compaction a solid layer that make water ingress and more importantly aeration very difficult. In our wonderful greens we have a mixture of different grasses on of them being bent grasses. The verti cutter helps cut these grasses and prevents this build up of matter not conducive to the wonderful greens we have on both of our golf courses.
It was an education watching the machinery working and actually seeing what comes out from the greens to reduce this organic stuff. In the photos you can see the amount that came out of the putting green, a load of it now all gone and putting beautifully again. Bear with us as we get through this process it is well worth it in the long run and is one of the many reasons we have such brilliant surfaces.